Of course this means that a level of knowledge, experience and discipline comes with both living and sailracing.
The more matured sailors often seem to define sailing as "continuosly adapting to the constant changing circumstances" Which, after the sailor has reached a high level of boathandling skills, is, in my opinion, a very accurate way of describing our sport.
Once we've mastered our boathandling to a level that we shift gears, rolltack, sail backwards, etc., with in one hand a drink, in the other a sandwich, and having a telephone conversation at the same time (recognise yourself on the road do you???), we can start racing and really playing the sailing game.
Other people draw paralels with playing chess or risk, but in the end it all boils down to decisionmaking.

"Elementary, dear watson"
So let's have a look at the basic elements of this decisionmaking proces. The following elements are:
1-Observe/analyse a situation
2-Consideration of adaptation
3-Realisation
4-Evaluation (succes or failure preferably for each of the above mentioned)
And mostly by then a new situation has already presented itself and the system starts al over again. Here are some examples:
As the fleet approached the top mark at the 1st beat on port, he saw the leading group just roundig the mark in front of him. The group was packed and big enough to give some big bad air. While entering this choppy bad air zone, he immediately eased his vang a bit and pulled the mast upright in order to power up the boat and get trough this bad area. It just gave him the extra meters to get in front of the other two boats that were already on starboard at the layline.
Another example:
"During this leg the short term predictions didn't make any sense. One forecast said an increase and right hander was on it's way, while the other metstation kept talking about decreasing stable winds. We therefore decided too change the watch system in order to have more hands on, in case winds chances would ask for sail chances. All day we were on full throttle and much too our reward. Every time a big bunch of clouds formed on our lefthand back side, we could see the wind coming in and picking up, just enough too chance genakers and sail a deeper and much faster course which got us at the right side of the next low which we knew was coming over the next 36 hours."
Or:
"One of my favourite exercises is a time on distance starting drill. Lay a starting line and have the boats (2-3) follow the coachboataround the line. From where ever you are the crew will have to estimate the time it takes to hit the line at full speed. So as I whistle the crew shouts the estimated time while boats speds towards the line. I also race there to check the line and time they really took, and give them the feedback. It's not only a lot of fun, but even the good guys seem to need a while to understand that a higher awareness of the space and time in the starting area, will actually make his start much more solid".
During my time as a national racing coach a studies was done by the University of Delft about; Observation strategies by sailors. One part of it was a survey with questions like: "While sailing upwind, what are you looking at the most?, and what would be second?" And; "If you can express that in time or percentages, how long would you look at each thing". It soon became clear that some sailors made their most brilliant choices looking at the most different things: Clouds that weren't even close enough to have any effect on the water. A change in the pattern of the fleet, a dark area on the water. All different areas of attention, some of them not even there at all, but not really a consistent system of observation. So that gave some food for thought.
I hope it's clear that character, education, verbal and cognitive levels will make every sailor having his own areas of mental sailing game, of which he is consious of this system. Some sailors are very aware of certain areas of attention while sailing and others seem to be totally ignorant to it. For example one guy could always exactly tell me what other boats did at every situation on the course but when I asked him about the color of the clouds, he had no clue. That, for instance came from a girl that even recognised some faces in the clouds but completely lost the order in which the situations with other boats happened. Even though she manages win races.
Considering this, we could start making a catagorisation on different types of sailors who would be more technique orientated or strategy orientated. etc, but this is not my goal.

Frustration…….. the Build up
Whatever the orientation is the sailor uses to get towards his goal of winning a race he will have to make decisions and will therefore almost always make mistakes, which will create frustration. After several mistakes frustration will rise and build up (hopefully cuz' than it gets interesting) to a critical point and maybe even beyond this. Each person has it's own way of dealing with this system but the basic signs are very obvious to be recognised and maybe handled.
At the first stage of frustration build up we see mostly a change in posture: Back straightens, shoulders move up and body movement becomes more active. Eyes widen, hear rate goes up a touch, and sometimes the sailors starts to observe more around and outside the boat. To make things clear I think that this is where most sailors are still in the green from a mental point of view. They feel that they've made some mistakes but have thrown the towel yet. It makes the active, sharper, more alert etc. Which again generates energy and that is a positive thing.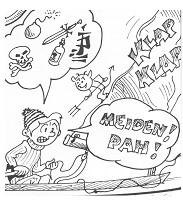 Then beyond the treshold things gets even more exiting: some mistakes will still happen and the frustration level rises again but now it gets over the treshold. Anxiety rises even more and beyond this level the body signs are changing. Body movement becomes jerky, not fluid while manoevering and while straightline sailing the body collapse into a passive forward bent position.
The indications while reaching the treshold itself are diverse: explosion-like reaction over irrelevant issues, crying, evasion like behaviour etc. They all boil down towards the same thing, pressure frustration became too high and the sailor felt that it became too much. Whatever it was it was too much, because that's always what it is; conception of reality.
End of part one, tune in for next one…….!
Good winds
Rigo de Nijs